Be Youtiful EYES : Be bright, be you!
EYEBROW & EYELASH BRUSH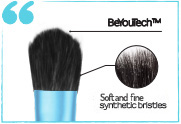 Only the best for you!
Specially designed with BeYouTech™:
soft & fine synthetic bristles for an expert application and a flawless finish.
Use brush end to groom eyebrows or remove excess brow color. Use metal comb to separate lashes and remove clumping after mascara application.
To keep your brushes hygienic, clean them with water or a brush cleanser on a cleansing pad. Rinse thoroughly and allow to dry naturally.
Materials:
Wood, Aluminium, Polybutylene Terephthalate, Acrylonitrile Butadiene Styrene, Stainless Steel.