Be Youtiful CHEEKS: Be radiant, be you!
LARGE POWDER FAN BRUSH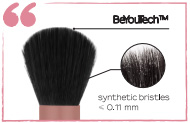 Only the best for you!
Specially designed with BeYouTech™:
soft & fine synthetic bristles ≤0.11mm for an expert application and a flawless finish.
Perfect for the application of bronzers and highlighters. It can enhance the neckline and illuminate the face by sculpting light and shadows. It can be used with all loose and compact powders.
To keep your brushes hygienic, clean them with water or a brush cleanser on a cleansing pad. Rinse thoroughly and allow to dry naturally.
Materials:
Wood, Aluminium, Polybutylene Terephthalate.