Be youtiful EYES: Be bright, be you!
PROFESSIONAL EYE SET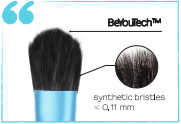 Only the best for you!
Specially designed with BeYouTech™:
soft & fine synthetic bristles ≤0.11mm for an expert application and a flawless finish.
Large Eyeshadow Brush: Round domed head to apply eyeshadow evenly across the eyelids.
Angled Eyebrow Brush: Flat angled brush to fill in and add shape to brows.
Blending Brush: In a sweeping movement, glide the brush across the eyelid to blend colour.
Smoky Brush: Small, precise flathead offers control when applying colours to very small areas. Perfect for smoky eyes.

The standing panoramic case is ideal to keep brushes well-organised and clean at home or on-the-go. Open the case, fold it, pull the cord and bring back the button until it stands properly.
To keep your brushes hygienic, clean them with water or a brush cleanser on a cleansing pad. Rinse thoroughly and allow to dry naturally.
Materials:
For all brushes: Wood, Aluminium, Polybutylene Terephthalate;
For the case: Polyurethane, Polyester, Paper, Acrylonitrile Butadiene Styrene.
Video tutorial