Be Youtiful FACE : Be true, be you!
CONCEALER BLENDING BRUSH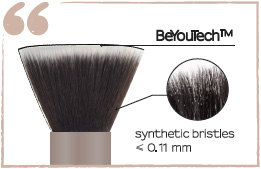 Only the best for you!
Specially designed with BeYouTech™:
soft & fine synthetic bristles ≤0.11mm for an expert application and a flawless finish.
Exact placement of concealer to cover parts of under eyes and around the nose. Smooth coverage under the eyes to minimize these dark rings.
To keep your brushes hygienic, clean them with water or a brush cleanser on a cleansing pad. Rinse thoroughly and allow to dry naturally.
Materials:
Wood, Aluminium, Polybutylene Terephthalate.

How to use
Use the brush from the nose to the extremities for better effect.

Video tutorial