Be Youtiful FACE : Be true, be you!
DUAL ENDED BRUSH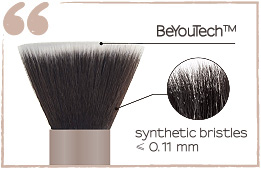 Only the best for you!
Specially designed with BeYouTech™:
soft & fine synthetic bristles ≤0.11mm for an expert application and a flawless finish.
This dual-ended, 2-in-1 brush effortlessly applies your favorite concealer and powder by reaching every corner of your face for the most beautiful you!
To keep your brushes hygienic, clean them with water or a brush cleanser on a cleansing pad. Rinse thoroughly and allow to dry naturally.
Materials:
Wood, Aluminium, Polybutylene Terephthalate.

How to use
The flat and tapered end effortlessly smooths concealer on your blemishes and the round, fluffy end hides imperfection.

Video tutorial