Be Youtiful LIPS : Be glam, be you!
FLAT LIP BRUSH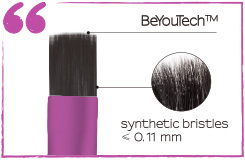 Only the best for you!
Specially designed with BeYouTech™:
soft & fine synthetic bristles ≤0.11mm for an expert application and a flawless finish.
Perfect for outlining the lips and applying lipstick precisely and evenly for boldly coloured lips. Ideal for outlining the lips with the tip of the brush, starting at your Cupid's bow. Then apply lipstick with the flat side of the brush.
To keep your brushes hygienic, clean them with water or a brush cleanser on a cleansing pad. Rinse thoroughly and allow to dry naturally.
Materials:
Wood, Aluminium, Polybutylene Terephthalate
Video tutorial