Be Youtiful EYES : Be bright, be you!
ANGLED EYEBROW BRUSH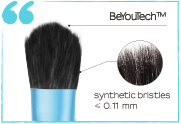 Only the best for you!
Specially designed with BeYouTech™:
soft & fine synthetic bristles ≤0.11mm for an expert application and a flawless finish.
Perfect for precise color application to the eyebrow and creates even, thin and straight lines.
To keep your brushes hygienic, clean them with water or a brush cleanser on a cleansing pad. Rinse thoroughly and allow to dry naturally.
Materials:
Wood, Aluminium, Polybutylene Terephthalate.
Video tutorial